THE DEFINITE LIST OF THE 100 NEW HOLIDAY MOMENTS
YOU CAN ENJOY AT GRECOTEL IN 2020



The Top 10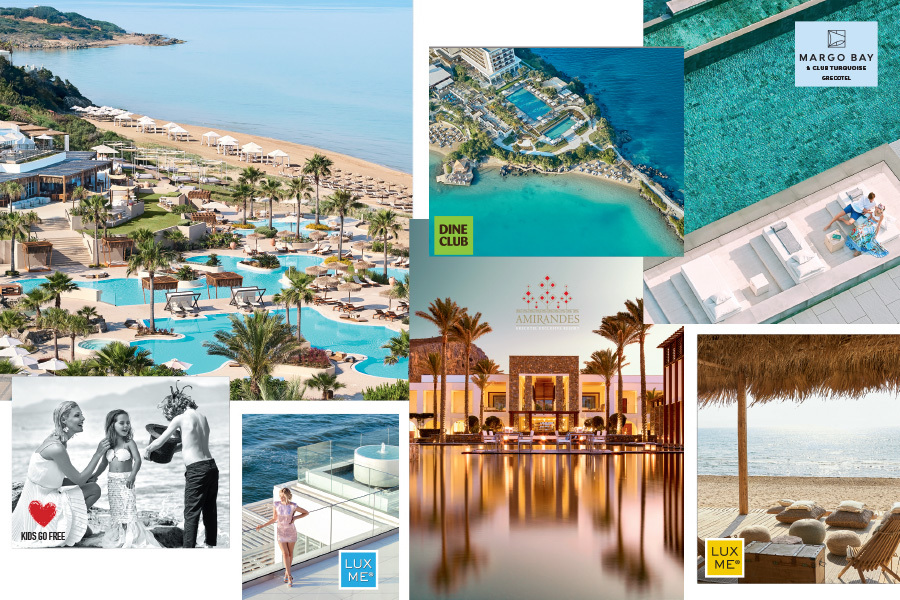 1. CORFU IMPERIAL & THE PRIVATE WORLD OF KOMMENO PENINSULA
The Corfu Imperial | The Villas | The Palazzos | Il Boschetto | The Medusa Estate | Kommeno Private Island La Bella Vita continues: New Masterpiece Palazzos, Villas, Swim up bungalows & Cruise rooms. The pontoons travel, the cuisine triumphs: all half board bookings upgrade to DINE CLUB for Free.
2. MANDOLA ROSA
New Best villas in Mediterranean, renovated suites in pink & DINE CLUB with 10 participating restaurants.
3. WHITE PALACE - A LUX ME HIT
New fantasy of waterfront life. A Club Pool, a Grand Lounge Pool, New restaurants, Generous Swim up rooms & bungalows with pool beds.
4. NEW 2020: THE DINE CLUB & KIDS GO FREE
Grecotel's new experience in half board dining: generous credit in destination restaurants (from 10-15), two free a la carte dinners per week & kids go free. Available in Crete, Corfu, Peloponnese
5. NEW BONUS GRECOTEL: KIDS GO FREE
Exclusively to children, Grecotel offers a free dining experience. Kids go free applies for kids till 11,99 yrs and is part of DINE CLUB offer.
6. THE NEW LUX ME OF 2020
is OLYMPIA OASIS at Riviera Olympia Resort, featuring 6 restaurants. Introductory Offer: As part of LUX ME, Oasis guests enjoy the credit of DINE CLUB in all resort restaurants.
7. RIVIERA OLYMPIA RESORT
Grecotel's spectacular Nature Reserve with 4 amazing resorts best for exclusive guests and families. Stay on line for an amazing array of News.
8. MARGO BAY & CLUB TURQUOISE
In Halkidiki. Club Turquoise is the trendy place to be. Half Board & All inclusive Kids go free. New outdoor gym, spa cabanas, family pool.
9. AMIRANDES MI AMOR
In a class of its own wrapped in Cretan Myth. Discover New Hospitality & complimentary DINE CLUB for all Half Board bookings.
10. REDESIGNED GUESTROOMS
NEW at Corfu Imperial Lux Me Daphnila, Eva Palace , Lux Me White Palace Marine Palace, Meli Palace, Kos Imperial, Royal Park, Mandola Rosa, Casa Marron, Lux Me Rhodos, Mykonos Blu.



New Villas at Mandola Rosa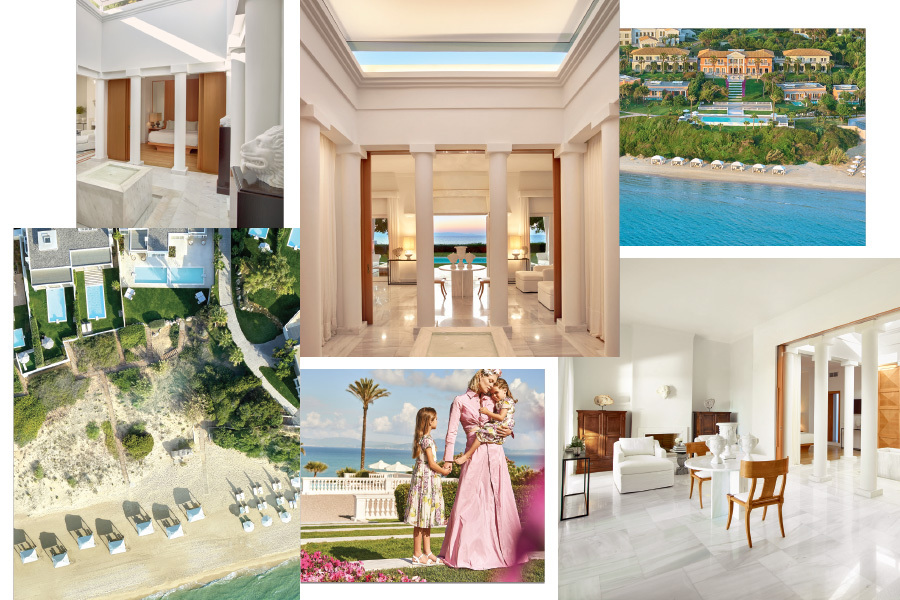 ​11. VILLA COLLECTION AT MANDOLA ROSA

Live by the extraordinary. Villas in the endless beaches of ancient Olympia. For luxury living, natural & vintage all at once. Unique.

12. MARBLE VILLA

For the miracle of Greece.

13. VILLA DELOS

Fully renovated two bedroom summer house with pool.

14. DINE CLUB AT MANDOLA ROSA

Half board bookings upgrade to to DINE CLUB & Kids GO FREE for 2020.

15. JUST A BEACH VILLA

A house, by the sea, with a wooden cabbana. All new & a beach pool.

16. VILLA NOSTALGIA

The Grand Villas of Mandola Rosa sparkle. From 250 to 500m2.



Amirandes mi Amor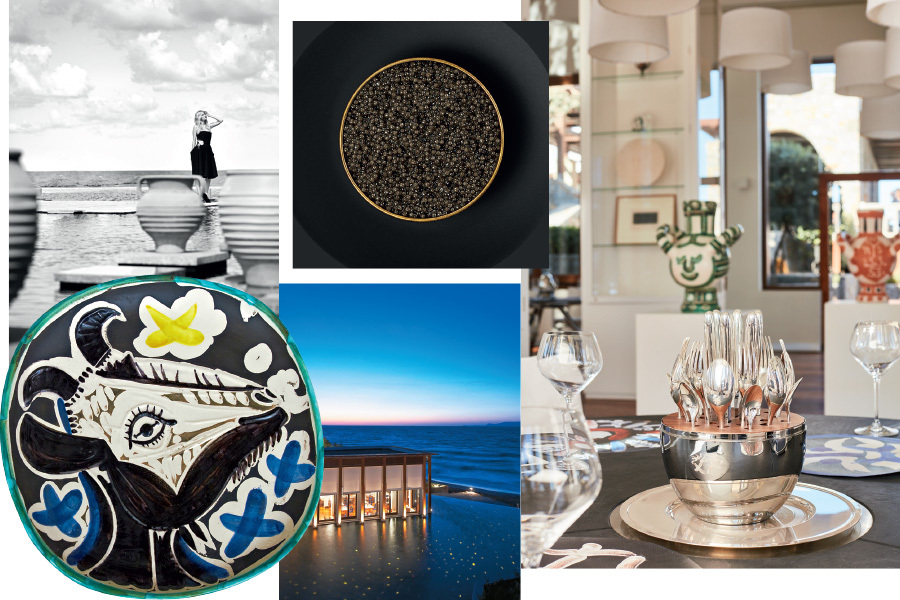 17. AMIRANDES MI AMOR

Live the Amirandes Life. Salty & Sexy. Slow. Crete Avant – Garde.

18. THE LAGOON

Becomes alive with new boutiques & a Fire Spectacle. After hours music lounging.

19. THE ROOMS

Cotton. Clay. New Atmosphere. Very luxury. Very Amirandes.

20. THE DINE CLUB

Fantastic experience. All half board bookings upgrade to DINE CLUB & Kids GO FREE.

21. THE GLITTERATI

Talk caviar stories & champagne granita on the sand. Amirandes guests are world famous yet appreciate privacy.

22. AMIRANDES GATEAU

A new pastry panorama by the Lagoon.



Boutique Resorts News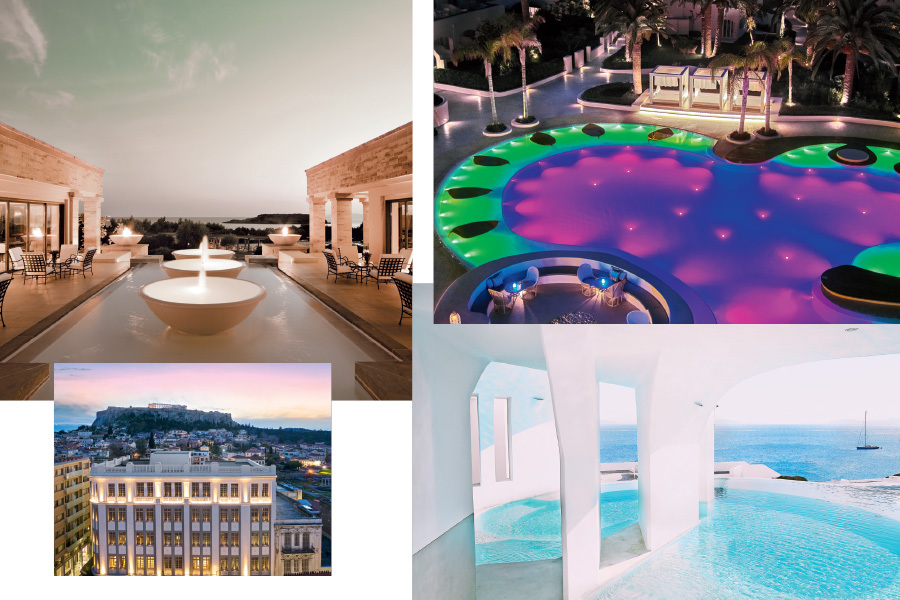 23. MYKONOS BLU & A NEW LOLITA IN MYKONOS

Best island in the world. Best clubs in the world. Best concerts on the beach.It is blue on blu, new Mykonos Blu rooms & dining. And a New 2020 Boutique Grecotel on the most authentic beach of the island: Mykonos Lolita on Agios Sostis.

24. CAPE SOUNIO & NEW GRECOTEL AT ACROPOLIS IN ATHENS

For the most famous Full Moon on Earth, come to the Temple of Poseidon. Stay at Cape Sounio Grecotel's Boutique Resort, host of Mary Katranzou'samazing Fashion Show 2019/2020. The New Looks will thrill you.

25. AMAZING CARAMEL

Pretty & Private, keeps collecting awards. And so petite, you think you can hold it in your hands. New hospitality experiences, DINE CLUB for all half board bookings, specialty cuisine – rural luxe. Don't miss new beach club.



News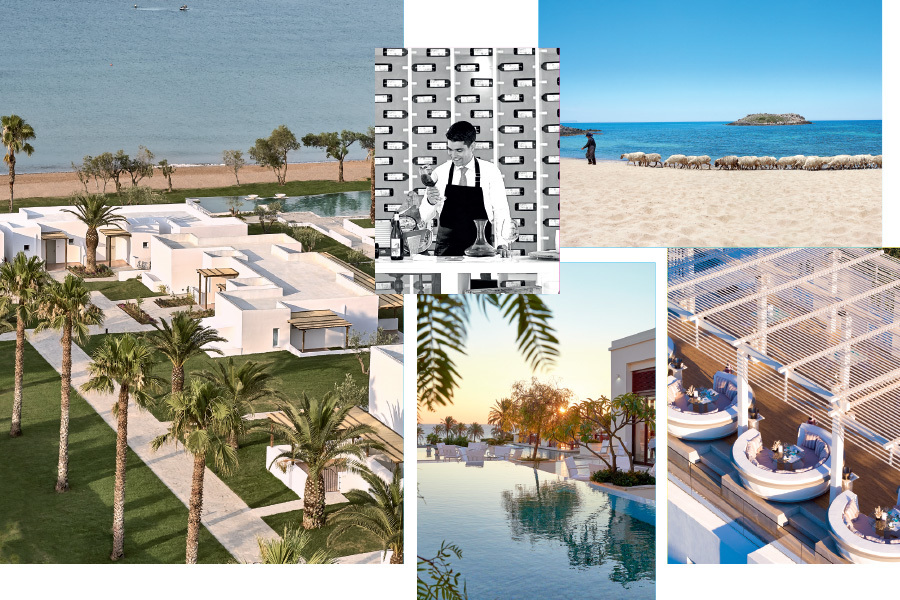 26. CRETA PALACE: THE TRADITIONALISTS

It's for beach lovers. A new beach kingdom) will surprise you. Very special Grecotel: traditional & old world. The family resort that feels home.

27. CRETA PALACE: FILOXENIA

To take care of you means to feed you to the moon. Upgrade to DINE CLUB, new for 2020. Also new, the Labyrinth Buffet Concept. WOW.

28. CRETA PALACE SOUL

The miniature village square brings the spiritof Rethymno. Authentic Crete, bouzouki, lyra, fresh souvlaki, raki & friends.

29. KOS IMPERIAL: MY JUNGLE IN THE AEGEAN

We are in South Aegean Sea watching the yachts go by. A water paradise set in a jungle. newly refreshed rooms.

30. KOS IMPERIAL

New restaurants, new holiday life. Half board or All inclusive & Kids go free.
31. CASA MARRON
Arrived. Marron is the Colour of the beach. Marron are The fields of Watermelons & Pumpkins you Just passed. Casa Marron Feels carefree. Just for people who love each other.

32. CASA MARINA

The Grecotel idea for studio & apartments, many with a full kitchen, thematic in décor. Gigantic palms frame a lagoon pool just 10 meters from Aqua Park.

33. MELI PALACE

Refreshed rooms and homemade delicious food our highlights for 2020. The wild landscape reaches the Minoan Palace at Malia.

34. ROYAL PARK

On a dunes beach, with its own Palmerai, next to farmers fields. A fantastic family affair. Fully renovated casa rooms, redecorated bungalows. Fresh island cuisine. Best windsurfing school.

35. ILIA PALMS AT RIVIERA OLYMPIA

Grecotel welcomes Ilia Palms into its ALL IN LIFESTYLE resorts. Fully renovated with its own Lap Pool.



Luxury Food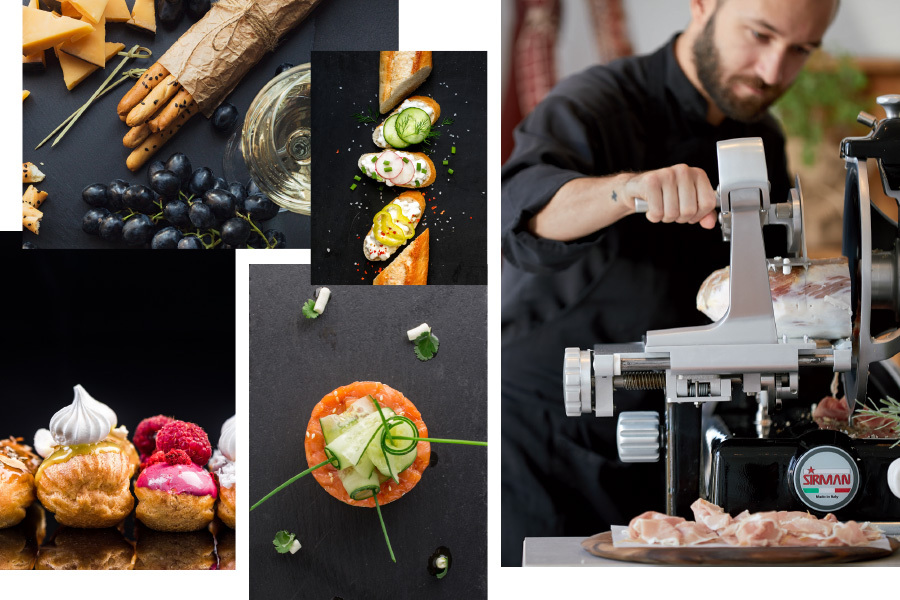 36. CHARCUTERIE

Mediterannean collection.

37. FOIE GRAS STORIES

Cooked or cold, canape or on beef fillet.

38. HANDMADE BREAD

Fresh from wood burning ovens.

39. PLATEAU FROMAGE

Cheese degustation & Local Delis.

40. CANAPE' LUXE

Crab, salmon balik, lobsters, truffle on fig.

41. SUGAR COUTURE

New Patisseries across Grecotel universe.



Best New Rooms 2020 for Corfu Imperial & White Palace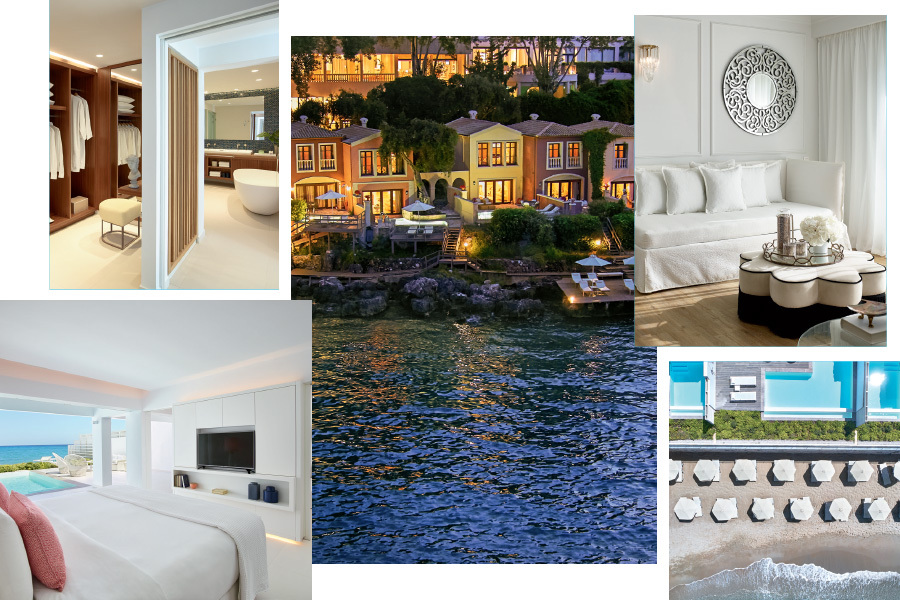 42. CORFU IMPERIAL

The New Fabulous: Swim Up Bungalows.

43. DELUXE & CRUISE ROOMS

New feel, private bar, new bath and a view to a kill.

44. THE ROCK VILLAS

Very new. Very Unexpected. Creating a masterpiece.

45. VILLA COLLECTION

Very New. Very Unexpected. Creating a masterpiece.

46. DESIGN MATERIALS

Aristocratic and luminous. Rainfall showers. 20th Century Art.

47. WHITE PALACE ROOMS

New all renovated for 2020.

48. PETIT YALI

New landscape, pool view infinite.

49. THE SWIM UPS

New room choices with sharing pools and your private pool bed.

50. LUXE YALI VILLAS

For luxurists and sea lovers.

51. WHITE LUXURY VILLAS

Top choice.

52. VILLAS TO THE BEACH

New private access to the waves!



New at Marine Palace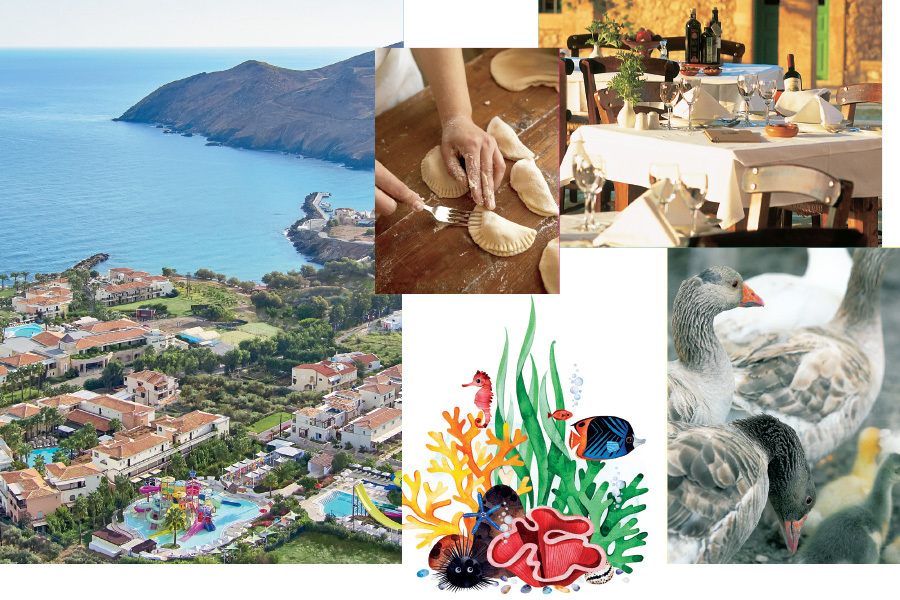 53. NEW FOOD COURT

All day extravaganza of beloved choices: from crepes, ice cream, waffles to souvlaki, homemade pizzas and pies. Easy beach food. / Same concept as the Plaz Marron in Casa Marron, will be in place of the Italian rest.

54. NEW RESTAURANTS

The Italian Hot Stone Taverna cooking family style Asiana Bamboo.

55. NEW HOSPITALITY

Original village life: a Plateia, cinema, folk music and mountain food.

56. MARINE VILLAGE

Choose where to stay. New options in mature neighborhoods.

57. ROOMS NEW WAY

At Casa Marina, thematic rooms with kingdom of Poseidon Aqua Park.

58. NEW KIDS ADVENTURES

Mermaid School, Treasure Hunt on the Rocks, Instagram Pirates of the Aegean!

59. LIFESTYLE ALL INCLUSIVE RESORTS

Village style resorts right on a natural beach, for bohemian lifestyle. Ideal for like-minded people and their families. Dreaming of a 'Plateia' to sit and eat casually; be it on your own, be it with family. For the kids to run around freely with other kids and make 'Fassaria' (noise). A 'Plateia' to stroll around and choose food and drink is what travels you back to childhood.

60. KIDS & FAMILY

Carefree all inclusive resorts tailor made for your family with all day Grecoland kids club games, activities & shows.



Kids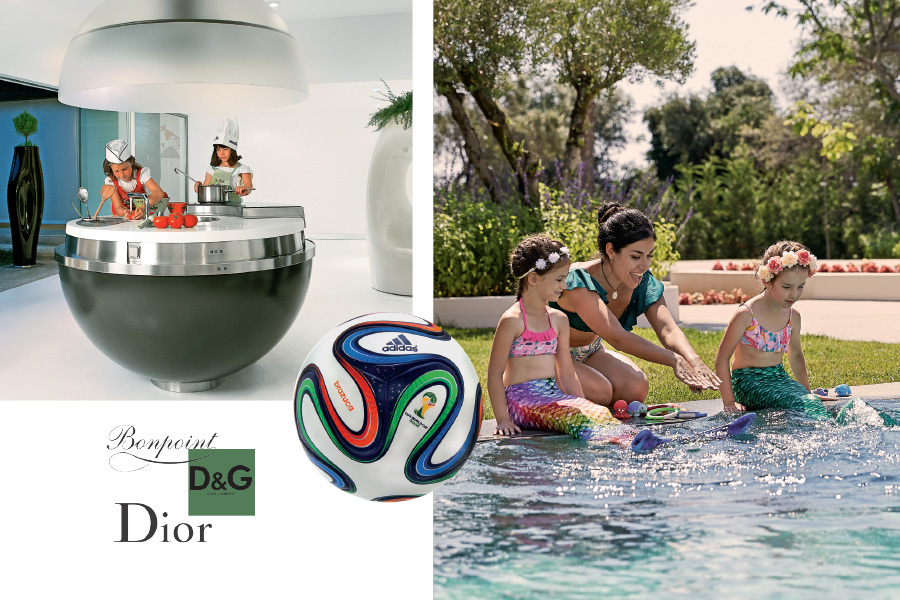 61. MERMAID SCHOOL DISCOVERIES

62. FOOTBALL CAMPS & SPORTS

63. SOLAR COOKING

VEG GARDENS BE A FARMER

64. NEW PLAYHOUSES

65. BE A MODEL

NEW Fashion Shows with high brands

66. SUMMER CAMPS

The Grecotel highlight. Highly supervised programmes with academies, grecoland and adventures.



Services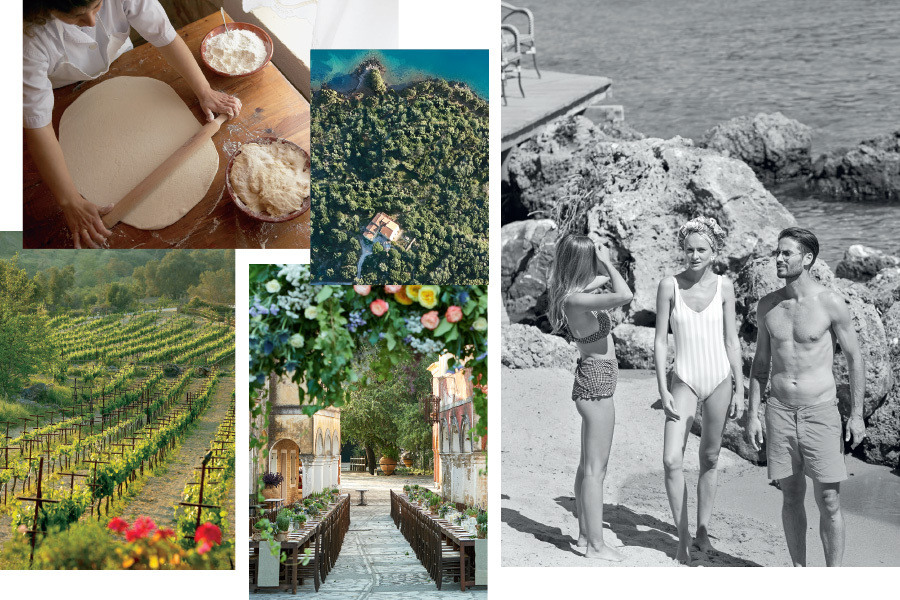 67. DANILIA CORFU

A fantom village or a film set? Grecotel's private village welcomes guests as free Dine Club venue! Shopping and museum.

68. THE PUNTAROSSA ESTATE CORFU

Visit our Olive Grove Estate by the sea where a 200 year old Kafeneio in rosso serves on the rocks.

69. VILLA MEDUSA AT KOMMENO

Villa of dreams this antique olive estate perched high on the hill next to Corfu Imperial joining 2 distinct worlds: one of privacy one of cosmopolitan Corfu. Bookings from 10/6/2020.

70. AGRECO BAKERY

Traditional recipies, served for Grecotel breakfasts and Airport Duty Free shops.

71. AGRECO & OUR FARMS

We will present our fields, our rural identity. Farms as Eden Gardens.

72. VILLA CONCIERGE

NEW for 2020, a quick and discreet service for Grecotel Special Villa Catalog.

73. YACHT SERVICES

NEW for 2020 for all Grecotels.

74. WELLNESS

From Gurus to Glam. Therapies nail bar, luxury cosmetics.

75. EXCURSIONS

In the spirit of Greece. New ideas, new experience.

76. WEDDING CONCIERGE

NEW for 2020, covering the whole of Greece.

77. HIGH-END GYMS

At a charge, personalized fitness training. New Gyms.



Best Restaurants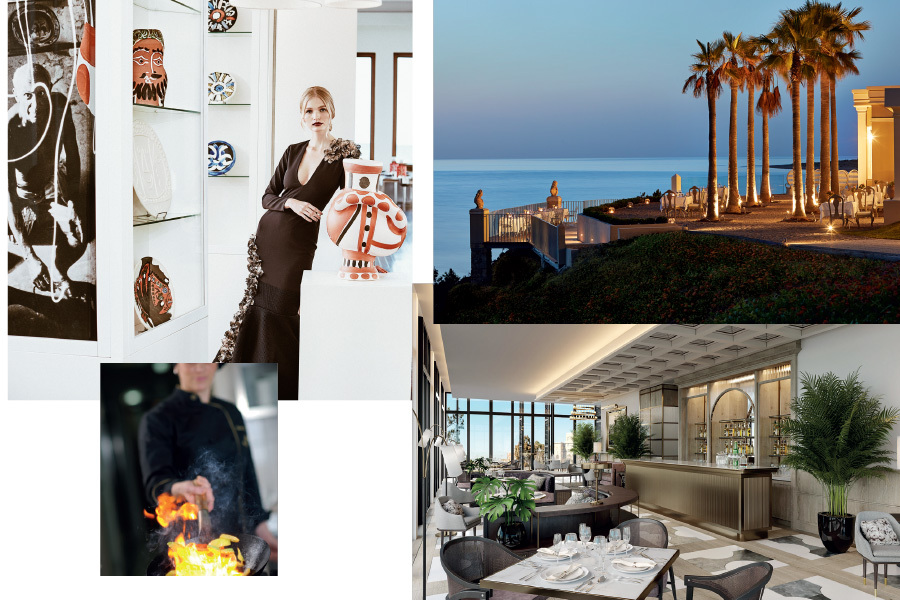 78. MERLIN'S / 79. NEW KUMQUAT

Corfu Imperial's brand new restaurant places with the WOW factor. Views. Luxury. Serious cuisine. Also part of the Dine Club.

80. MINOTAUR / 81. THE BEACH CHEFS

The new hospitality. At Amirandes the food scene changes. New menu is Art at Minotaur. All day food is imagined and cooked by our very new team of Amirandes Beach Chefs.

82. CAP VOYAGE / 83. SEA DUNES

Riviera Olympia's spectacular Night and Day Restaurants. From incredible gourmet to luxe beach food, fresh, charcoal grilled, endless choices to share. All new!



Lux Me News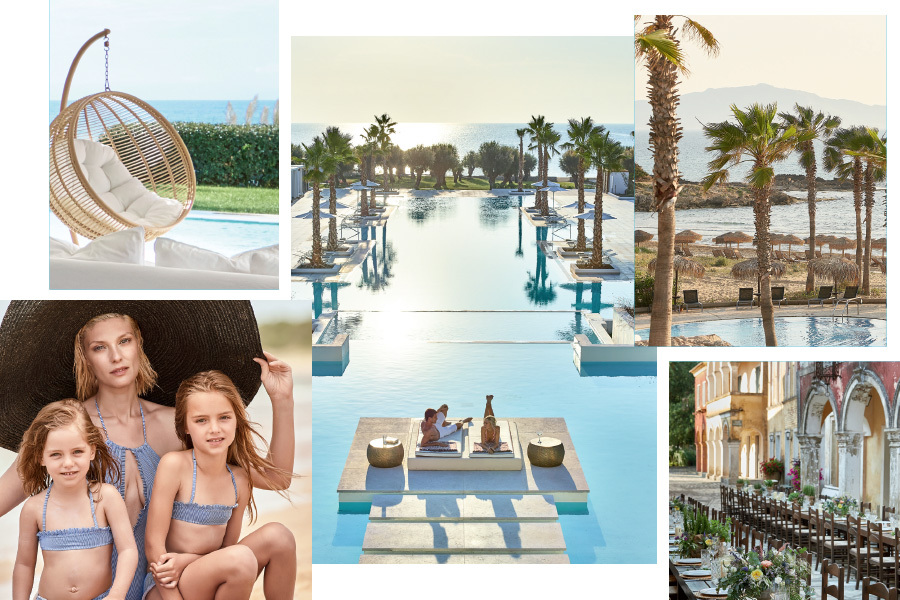 At White Palace, new heated central pool for 2020.

85. WHITE PALACE ROOMS

All now renovated, also new room types.

86. THE FAMILY CLUB POOL

New concept of family swimming. Cabannas & Bistro food.

87. NEW GRECOLAND

Part of the family Club Pool, heated kids pool, games.

88. NEW ROOFTOP LOUNGE

A stairway to heaven. Adults only.

89. NEW HOT STEAK RESTAURANT

A bold new menu with gastronomic bites.

90. LUX ME RHODOS

The instagram 100 meters pool.

91. LUX ME RHODOS

All rooms now remodeled.

92. LUX ME RHODOS

Hot beach & lounge, shop playroom.

93. LUX ME DAPHNILA

New refreshed rooms with shaded balcony.

94. LUX ME DAPHNILA

Experience Danilia great food for free. New 2020.

95. LUX ME & DINE CLUB

As part of LUX ME, guests enjoy all credit of DINE CLUB in all restaurants.

96. NEW LUX ME OASIS 2020

The Oasis fully refreshed also bookable as halfboard.

97. NEW GRECOLAND

Eco Adventures, Play Houses, Aqua Park Rides, Jet ski rally, Beach Runs.

98. OASIS NEW ROOMS

New family suites, remodeled accommodation & easy beach life. New Asiana & Tzaki restaurants.

99. SPORTS WORLD

100. LUX ME & DINE CLUB COMBO

As part of LUX ME, guests enjoy all credit of DINE CLUB in all restaurants.